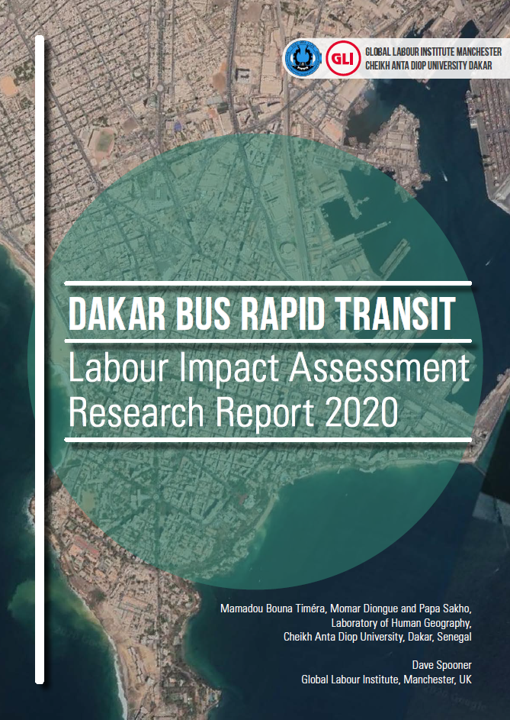 GLI Manchester has announced a new publication. The Dakar Bus Rapid Transit: Labour Impact Assessment Research Report is now available to view and download in both English and French.
This is the provisional report of research commissioned by the ITF and undertaken in partnership with the Laboratoire de Géographie Humaine at the University of Dakar (UCAD), and Women in Informal Employment: Globalizing & Organizing (WIEGO). It is a contribution to the ITF's Our Public Transport (OPT) programme.
It considers the potential impact of Bus Rapid Transit (BRT) on the livelihoods and working conditions of those dependent on Dakar's urban transport industry, particularly those employed in the informal economy.
The report is based on desk research, survey questionnaires, focus group discussions and in-depth interviews with workers. The research aimed to capture data on the workforce in the context of the development of BRT in Dakar, build a profile of workforce demographics; occupations; work experience and qualifications; employment terms and relationships; working hours and conditions; earnings; and major issues experienced at work. It also aimed to determine the level of workers' awareness of BRT, ideas for improvements and reform, and attitudes towards the introduction of BRT.
This project is the second BRT Labour Impact Assessment undertaken on behalf of the ITF. The first, completed in January 2019, was carried out in Nairobi by GLI in partnership with the Institute for Development Studies (IDS) at the University of Nairobi. This report is available here. ← Kampala Bus Rapid Transit Report

GLI Manchester is a not-for-profit company, working closely with a range of global union federations, national trade unions, research institutions and workers' education organisations. It conducts education, capacity-building and research on international labour movement development and organising strategies. It specialises in political education, organisation and trade union policy with informal economy workers, and the design and management of international workers' education programmes.